Bit o' honey
Some new-ish pop confections to tide you over, although i know how one jelly bean can sometimes seem barely to hit bottom.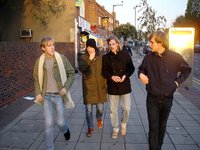 York-ish
Tales of Jenny
make pleasantly off-kilter bashy B&S-inflected pippity pop.
Tales of Jenny - Trotsky of our Time
Stockholm's
The Happy People
(pictured) bring us this new demo, one of three you can enjoy for free from their site.
The Happy People - Quiet One
J. W. Hindle
is newly installed in London, where one hopes his sun-tinged pop can strike the mist just so, making things nice for a spell. Sigh.
James William Hindle - Silence